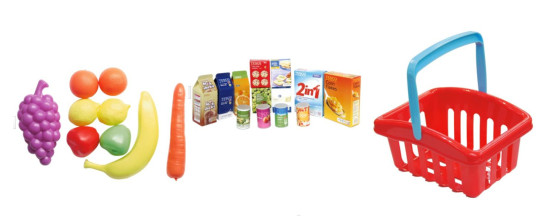 While the play groceries and basket at Tesco are not actually on sale, we think they're exceptionally good value and wanted to share them with you. You can pick up either the Tesco Food Boxes or Fruit Selection for £1.25 and also the shopping basket for £1.50 - for £2.75 you can have a whole play shopping experience for children.
My children absolutely love role play - in my daughter's nursery, they always report back that she'll make a role play opportunity out of anything - an actress in the making, that one.
Toys like these are brilliant for children, because they just allow such a variation on play, don't they? I see fruit - my daughter might see a feast, complete with monkeys and fairies, and right now you can bet Elsa and Anna (from Frozen, if you didn't know) will be in attendance too.
Unfortunately you don't get to choose whether you get fruit or food boxes from Tesco, which is annoying but at the price you can just about afford to chance it.
As always with Tesco, there's free click and collect, or you can have your 'shopping' delivered for £3.