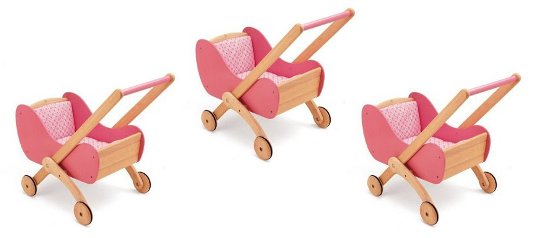 Amazon are selling this Pintoy doll's buggy for £29.99, rather than its full £37.99 retail price - it's also an Amazon Deal of the Week so this price is guaranteed until 11.59pm tomorrow night; marvellous!
If I lapse into calling the Pintoy doll's buggy a Pintoy doll's 'pram', it's because it looks like a pram to me - a buggy is a pushchair or stroller in my language.
Anyway, whether you call it a buggy or a pram, it looks SO much nicer than the cheap plastic tat versions you can get for pushing dolls around in.
I'm not, and have never been, a fan of playing with dolls and I tend to shy away buying anything 'dolly' for any of the little girls in my life BUT, you know, I'd actually consider this Pintoy dolls buggy!
It's elegant and has a touch of class about it; it's made from wood and rubber that come from replenishable sources and also comes with a pillow and blanket for keeping 'dolly' warm and cosy.
Your Pintoy doll's buggy doesn't require any self assembly, so you can put your Allen keys away, and is suitable for little girls aged three years and older.
Happy dolly pushing!