Pink Karaoke Screen Party For £84.99 @ Toys R Us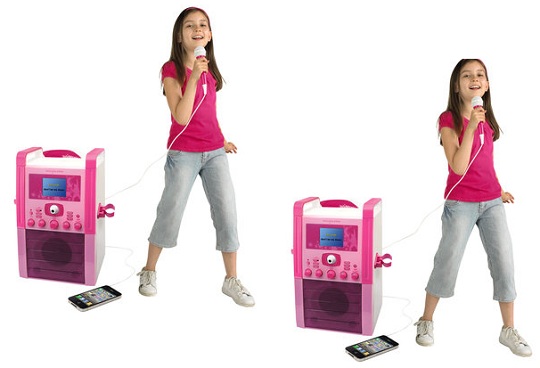 Save a whopping £84.99 on the Pink Karaoke Screen Party that's now half price at Toys R Us. The home karaoke machine that comes in a cool bright pink was originally £169.98.
This is awesome! The kids can have their very own karaoke machine at home. Imagine the cool parties they can have and how much fun it'll be when they get together with their friends to practice. They'll be able to sing along to lyrics as they appear on the built-in colour screen just as you would at a karaoke night. They can even connect an MP3 player and sing along to their favourite tunes.
The Pink Karaoke Screen Party features a top loading programmable CD/CDG karaoke machine, a built in colour VGA video camera to see yourself on screen and a built in Colour TFT screen. There are two microphone inputs with echo and volume control along with a built in amplifier and speaker. You can connect it to a large screen and home hi-fi and to any MP3 player. Lastly you'll the dynamic microphone and CDG demo disc too.