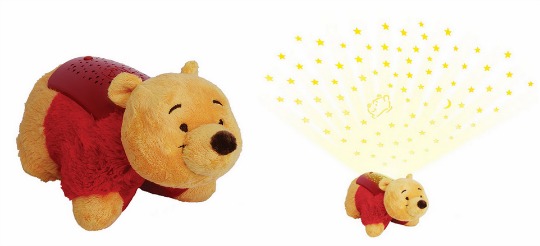 If your little one is a Winnie the Pooh fan then you will love this deal. At Home Bargains right now they currently have Pillow Pets Dream Lites in a Winnie the Pooh version. It normally retails for £20 but you can get this fantastic night light for £9.99.
I love the idea of a cuddly toy that can also be used as a nightlight for little ones. And what's more comforting than a Winnie the Pooh cuddly toy!
Everyone loves comfy, cosy Pillow Pets... and now there's now Dream Lites! Not only do they feature their favourite character, but they can help your little one drift off for a restful night's sleep and alleviate fears of the dark. It will illuminate their room and turn the ceiling into a starry night sky with the touch of a button. The Pillow Pets Dream Lites project a variety of colours including blue, amber, green or a mixture of all three colors that change every four seconds. The lights can be switched into a timer mode to automatically shut off after 20 minutes.

This item requires 3 AAA batteries which are not included and is suitable for ages 3 years upwards. This would make a fantastic Christmas present or a gift for a little one who is going into a big bed or a new bedroom, it should provide real comfort for them.
This is a home delivery only item which will set you back £3.49.