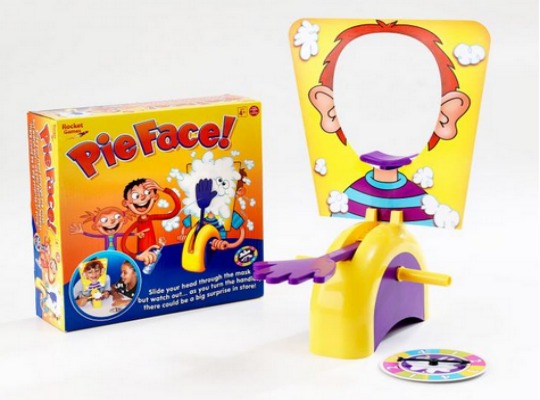 Be quick! Pie Face is in stock at Very for £15. that's £2.97 than Asda, who are taking pre-orders at the moment. Why is this game so popular? It's freakin' awesome that's why! It's tipped to be one of the Top Ten Toys of Christmas 2015 and folk are already desperate to get their mitts on it. Go look up 'Pie Face Game' on You Tube. It's messy which means the kids will want to play it 24/7.
This is truly a game for the whole family, a chance for us boring parents to join in on the fun. It's worth grabbing one of these for those rainy days.
Here's what Very say about it:
Pie Face is fantastically exciting and fun-filled - just load the throwing arm with delicious squirty cream or a wet sponge and wait for the tension to build!

You must hold your nerve and keep your fingers crossed - because this is one game where you don't want to end up splat on your face!
You can opt for Collect+ which is a FREE service that allows you to select a local participating shop to pick your order up from. If you would rather have it delivered to your front door then it costs £3.95.