Personalised Ride On Licence Plates £4.95 Little Tikes £2.90 Delivered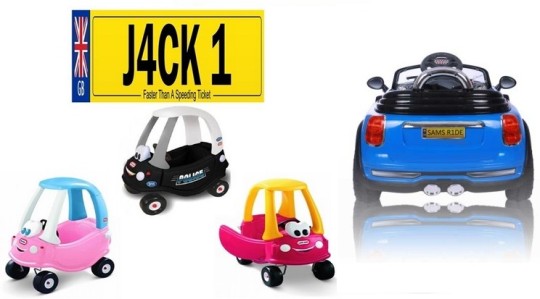 This may well be totally a novelty item, but I can imagine it being really popular, especially as a little stocking filler on it's own or accompanying a little car too. The personalised ride on licence plates are sold by Duplay and are currently half price, while the Little Tikes licences are from eBay and are £1.90, with £1 delivery fee.
The Little Tikes licence plates are made using the same process that is used for making full sized plates. It's printed on high quality photo paper and hot laminated to make them last.  You get one yellow plate and two sticky pads to attach them. We haven't seen these ourselves, but the seller gets good ratings, so we hope that will translate to the product!
The Duplay ride-on licence pates are high quality super sticky self-adhesive labels to ensure the best quality possible. These number plates measure 13 x 3cm to perfectly fit a ride on car or jeep. With these personalised number plate you will receive 1 x front number plate in white and 1 x back number plate in yellow.