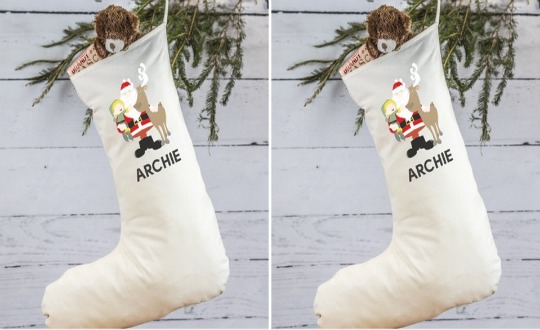 Personalised Christmas items are a wonderful way to make the festive season that much more special for your children, but they can be pretty pricey. However these beautiful Christmas Stockings which are normally £9.99 cost only £2.99 using the code 509T2. If you then add the code YOUPAYFORIT you also get Free Delivery. That's a fantastic price for such an individual gift.
The stocking is a lovely large size (57cm x 28cm), and is made from 100% natural cotton. It has a picture of Father Christmas, Rudolph and and Elf above the name. The name that will be printed can be up to 12 characters long, and is added using high quality eco inks so that this stocking will last and can be brought out every Christmas for years to come.
My children don't have matching stockings at the moment as one has a big sack that he insisted on (he thinks if you have a bigger stocking you get more presents) and the other has a knitted stocking. I think it is a wonderful idea to get them their very own matching Christmas stockings with their names printed on. It makes it more individual and unique, and hopefully becomes something to treasure in itself.
I also think one of the Personalised Christmas Stockings would also make a wonderful gift for a baby's First Christmas, which can be a tricky present to buy.
(Please be aware that the code 509T2 is only applicable to the Personalised Cotton Christmas Characters Stocking that the link goes directly to, and not the other designs in the range. The Free Delivery code YOUPAYFORIT can be used with any items. Add the discount code first, click apply to get the £2.99 price, then add the free delivery code next and the £2.99 charge for that is removed also.)
With thanks to debzone @ HUKD.