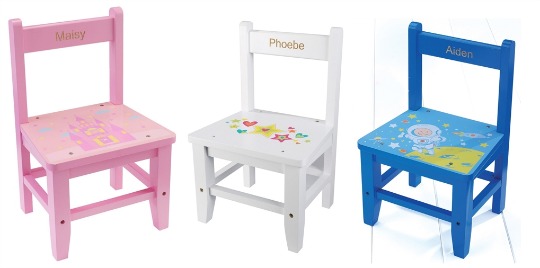 I was about to log off when I saw these and had to share! Studio are selling Children's Wooden Chairs which can be personalised with your child's name, and they are reduced from £29.99 to £8.99 or £9.99 each! You do need to add on £4.99 for delivery, but this is still a great price for such a unique and personal piece of furniture.
The white chair is £8.99, and has a pattern of stars and hearts on the seat, so they are advertising it as a 'girls' design. For £9.99 you have a choice of a pink chair with a picture of a fairytale castle (so cute!), or a blue chair with a cool spacey picture with an astronaut.
To personalise you have to add the item to your basket, click 'change' and follow the instructions to add the name. All names are hand painted on the chair back as shown in the picture.
All three designs look absolutely gorgeous, and would make such a lovely gift for a child's room. I'm still amazed at the price to be honest! If we didn't already have a kiddie table and chair I would be really tempted by this one!
Big thanks to Frayedflares and GandA @ HUKD.