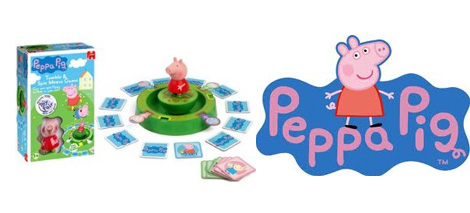 Here's a nice little deal for anyone living with a Peppa Pig fan - a Peppa Pig Tumble and Spin memory game.
I love Peppa Pig; I love everything about the show - the characters, the stories, the voices, EVERYTHING!
One of the sad things about my youngest growing up and moving on to entertainment pastures new, is that I don't get to watch programmes that were once much loved...like Peppa.
I'm a big fan of memory games too.
There's something very triumphant about remembering lots of things, mind you, these days I'm happy if I can remember my own name half the time!
I'm constantly in awe of those guys who can memorise decks of cards in a minute and then recite the order back out loud - yes, I know the techique they use but you still have to remember the little story you made up.
Anyway, back to the Peppa Pig Tumble and Spin Memory Game!
Up to four players can play along with Peppa and use their memories, following her instructions, to try and be the first to collect six cards to be the WINNER!
The retail price for a Peppa Pig Tumble and Spin memory game is £9.99 but Amazon are letting her go for £6.64, and there's not delivery to pay either if you choose the Super Saver Delivery option.
Thanks to gizzygoo over at HUKD!