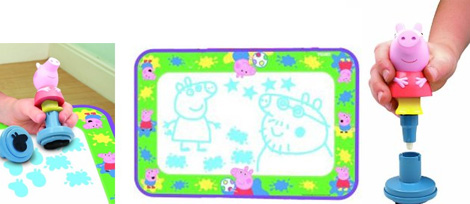 Amazon have reduced this Peppa Pig Tomy AquaDraw mat from £14.99 down to £9.65.
I really like the Tomy AquaDraw mats, they are utter genius as far as I'm concerned.
The Teenagers loved painting when they were little, and my youngest does to, and I loved/love drawing with them too.
But the thing is...it can be time consuming and messy and requires supervision, unless you don't mind it looking like Jackson Pollock came and decorated your house.
So rejoice in the wonder of the AquaDraw mat!
Firstly, you don't need any paper - the trees and forests of the world will thank you.
Secondly, you don't need any paints, pencils, pens or aprons; there is also no need to cover the floor and walls with newspaper - hurrah!
All you need is the mat, the magic pen, stampers and some water.
The pen and stamps are big and chunky, so little hands will be able to get to grips with them easily, and all you do is dip them in the water then stamp and draw away.
The pictres will fade as the water dries and you're left with a blank canvas to draw on all over again.
If your little one creates a masterpiece or is distraught at the idea of their drawing being lost - take a photograph of it!
Thanks to clgay over at HUKD