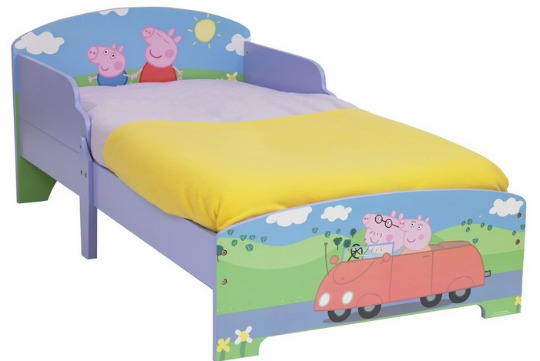 Peppa Pig is loved by many little ones. It was just yesterday when my 15 month old was rummaging through my DVDs and kept giving me the PP one. This is the start of it, there is something so compelling about Peppa and the rest of her family. Even us adults don't mind watching the programmes. If you do know a little fan, then this Peppa Pig Toddler Bed is only £65.01 from Amazon. That is cheap for such a cool toddler bed, plus they include FREE delivery in that.
The Peppa Pig Toddler Bed is ideal as a first bed. It has safety sides to ensure any fall risks are eradicated. It's quite low to the ground so that if a little one did fall out then they wouldn't fall from a great height.
The bed is decorated with scenery from Peppa Pig and is so bright and welcoming. With this bed you stand some hope of keeping your little one in it come bedtime.
It is made from MDF and does require assembly. I wouldn't imagine that it's too hard to put together but I would get a helper to hold pieces for you as it's obviously bulky.