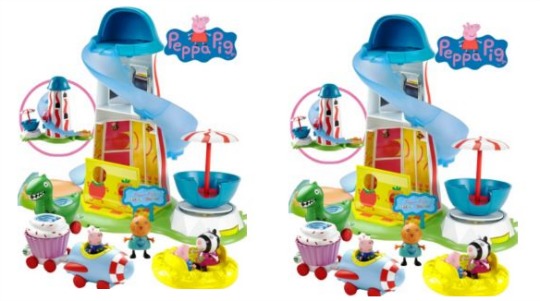 Every child goes through a I love Peppa Pig phase. Buy them this Peppa Pig Theme Park Mega set and you will be an absolute legend in their eyes. Argos, have done it again, they have cut the price of this Peppa Pig delight, from £49.99 (seriously?) to a more believable £24.99. These generally sell for around the £30 mark, so Argos works out the best option.
In the Peppa Pig Theme Park Mega set you get, a sandpit, train ride, a helter skelter (woo hoo) with a spinning raft ride. You also get three Peppa Pig characters, from the picture it looks like you get Zoe Zebra, Peppa and Candy Cat. I cannot guarantee that, that is who you will get but that's my guess.
I am a huge fan of these Peppa Pig sets as you can add, and add, and add to them until you have your own little Peppa Pig town. What I will say is that if you do buy an assortment of these sets you will end up with numerous Peppas as she is in every set, and if I am honest I much prefer little darling, but very moany George.
Collect your Peppa Pig Theme Park Mega set from your local Argos for free or pay £3.95 to have it delivered to your front door.
Thanks to iolaxx @ HUKD