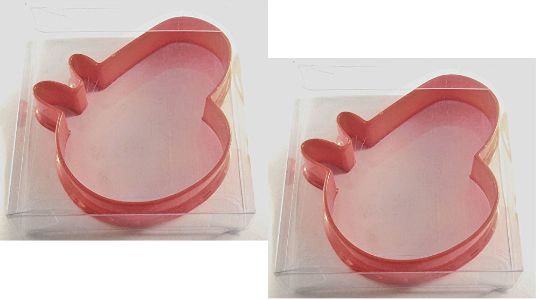 I NEED one of these! Most parents NEED one of these. What is it? It's a Peppa Pig Style Cookie/Sandwich Cutter. Most children go through a Peppa Pig stage and at the moment I have an obsessed 18 month old. I have been looking for one of these for a while and most of the ones I found were rubbish, but this one from Amazon Seller: Goggly looks fab and is only £2.59 with FREE delivery.
It apparently comes gift boxed but I am unsure as to whether that means a clear plastic box as seen on the picture above or not.
So, what can you make with this Peppa Pig style Cookie Cutter? Cookies (obviously!), Peanut Butter Peppa Treats (recipe, here), sandwiches, fondant icing Peppas and many other things. I guess you could even use it as a stencil for a bedroom wall!
It's made from plastic so will be easy enough to wash after use.
Amazon Seller Goggly seem to have a good reputation on Amazon and sell lots of different novelty cutters. Worth a look if you like to bake or make the kids' lunch boxes that bit cooler.