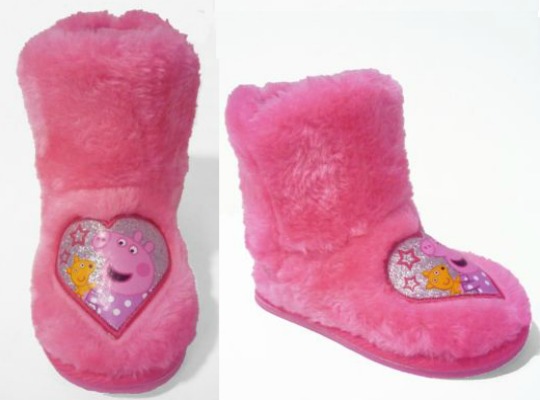 I hate when my kids run around the house in bare feet. We have laminate flooring throughout the house and it's cold on the little ones tootsies so I try my best to get them to wear slippers. Check out these Peppa Pig Slipper Boots reduced from £9.99 to just £3.99.
The Peppa Pig Slipper Boots are available in sizes 5 through to 9. They don't look too bulky. That's my pet hate, a lot of slippers for children are too cumbersome and can cause trips and falls.
They are pig and very fluffy and look like they will keep little feet very cosy. I actually have slippers that are very similar and they are heavenly to wear. I'd say the 5 star ratinf over on Argos for these suggests that these are super.
On to the front of these boot slippers are sparkly Peppa Pig motifs, and this alone should prompt your child to slip them on. Well we can hope.
You can reserve and collect the Peppa Pig Slipper Boots for FREE from you local Argos store and you don't have to pay until you are there. If you would prefer to have your slippers delivered then it costs £3.95.