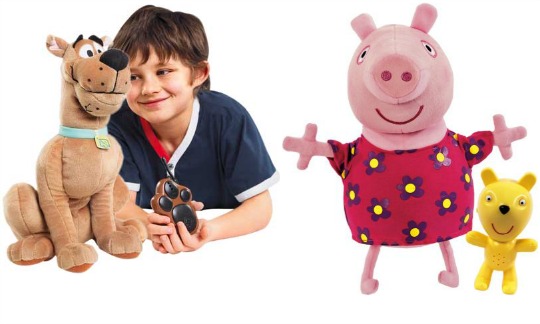 If you have the patience of a Saint, you may want to get yourself over to the Argos site. They have bargains aplenty today, but don't be surprised if it takes you double the time to place your order. It is worth it for absolute steals like the Peppa Pig or Scooby Doo Hide & Seek toys for just £7.49 each. That's an extremely good price.
Both, Scooby Doo and Peppa Pig Hide and Seek were selling for £29.99 each originally and were then reduced to again and are now the fantastic price of £7.49. These would make a great add on gift for those little people in your life. If you have more than one child then I'd be tempted to grab one of each.
Here's how Argos say Scooby works:
Use the interactive paw to find where Scoobs is hiding! He'll give you clues to let you know if you're close! The paw turns blue when you're 'colder than Scooby's nose,' green when you're on the right track and red means you've found him!
Peppa Pig Hide and Seek is the same idea but instead of the paw, it's a teddy remote control.
Delivery is £3.95 but you can avoid this by reserve and collecting your toys from your local Argos store.
Thanks to NinurtaEnki @ HUKD