Peppa Pig Palace £23.97 @ Amazon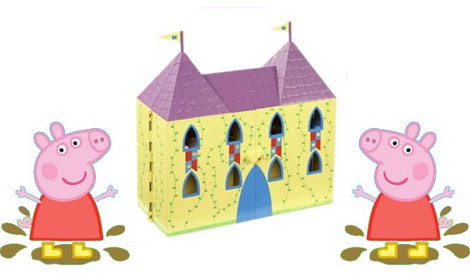 OINK OINK! Amazon are currently giving away this Peppa Pig Palace for £23.97 instead of £39.99.  Play.com are selling it for £41.25...no chance.
If you're a regular PlayPennies reader then you'll know that I adore Peppa Pig.  I was never a big fan of things like this when I was a little girl; I prefered playing with cars and Star Wars figures, but I think I would have been tempted to the 'dark girly side' by this Peppa Pig Palace.
The Peppa Pig Palace folds out to reveal a banqueting hall and six other rooms.
It comes with various accessories including King & Queen thrones, beds, a table & chairs, an oven, a cauldron - what castle would be complete without a cauldron! - and two exclusive guardsmen to protect Peppa and her Royal Family.
Having read through the reviews everyone is very happy with their Peppa Pig Palace but there is a common criticism - the lack of characters; apart from the guards it only comes with Princess Peppa and a rabbit (which seems a bit random to me) so you have to buy the other members of the Royal Family.
"My daughter is mad about Peppa pig. The Princess palace, at this price, represents great value in comparison to other retailers. Made of durable hard plastic, it has already survived several drops to the floor!!!
The only downside is the distinct lack of characters supplied but otherwise, a must for any Peppa fanatics."
All the usual Amazon free delivery malarky applies.
Thanks to ilovepink at HUKD