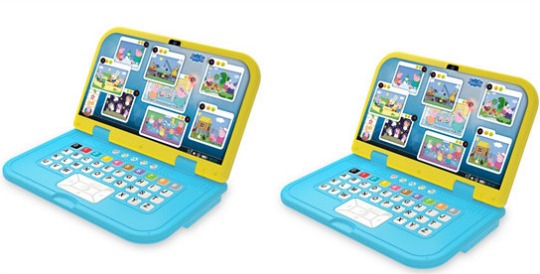 Quick! This is a seriously GOOD price for this Peppa Pig Notebook. Only £10.99 from Early Learning Centre. This very same interactive toy costs £21 on Amazon and £24.97 at Asda Direct. These will sell out very fast, at this fabulous, bargain, price. Don't hang about!
The Peppa Pig Notebook look like a bright colourful mini laptop. Just the ticket to distract your little one, from touching yours. It has a mouse pad, that can navagate through and a keyboard with letters and numbers.
Little toys like this are usually great for teaching children, colours, numbers, sounds and letters of the alphabet. This Peppa Pig one has lots of sounds and songs to get your tot interested. There's a choice of five games to play and a discovery teaching mode.
Suitable from the age of two years and above, just the right age for little people to become obsessed with that cheeky little pig. This would make a good birthday or Christmas gift, and at only £10, it's going to look like you have spent lots more than that.
Collect the Peppa Pig Notebook for FREE from your local ELC store, or pay £2.95 to have it delivered.
Thanks to Sazjo @ HUKD