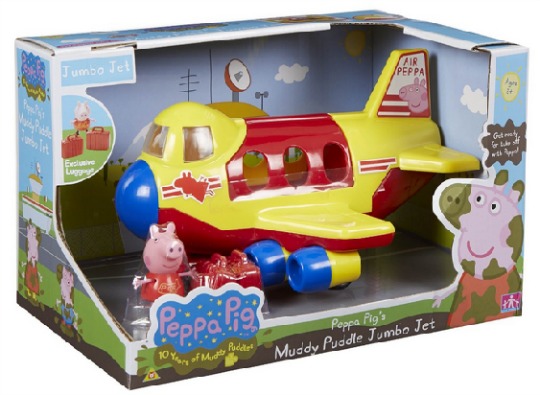 Peppa Pig just has to be THE most notorious pig in Britain. She has been on the go for ten years. Can you believe it? Here's to Peppa entertaining out kids for a whole decade! Amazon are selling the Peppa Pig Muddy Puddle Jumbo Jet for just £15.39, including FREE Super Saver delivery. This very same toy is £19.97 at Asda and £19.99 elsewhere. Tick another present of the list with this bargain.
Click here for the Peppa Pig Muddy Puddle Jumbo Jet from Amazon*
The Peppa Pig Muddy Puddle Jumbo Jet is suitable for Peppa fans, aged three years and over. You get the big, chunky jumbo jet, two suitcases and the lovely, little Peppa Pig figure. The Jet have free-wheeling wheels, the passenger door and luggage compartment can open, for the suitcases and Peppa to board.
My older boys went through the Peppa Pig stage, and I would bet money on it that little, baby Daniel will too. I guess in two years time, I will be back to buying all of the Peppa sets again. They are great quality and kids just love them. This one is certainly worth £15.39. Think about Christmas, do you know someone that would love this?