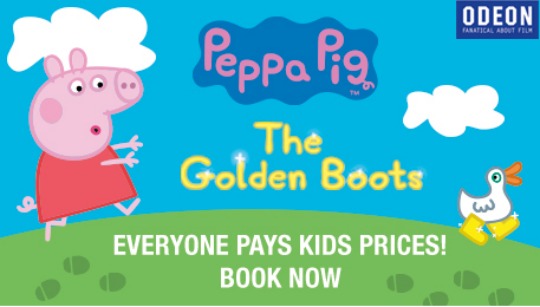 The first big screen version of Peppa Pig is being released just in time for half term, and Odeon have a special offer on tickets for it. From Saturday 14th to Thursday 19th February Odeon will be selling all tickets for the film at childrens prices, so you could save a bundle on your cinema trip.
Prices vary massively across the cinema chain as they are local to each site, with city centre and London prices being much higher, but to find out prices for your local Odeon and to book tickets click the link below.
Peppa Pig: The Golden Boots (U) has a new animated adventure as well as some of the favourite episodes, and features the presenters of Channel 5's Milkshake show as well.
It's a great choice for taking young children on their first cinema trip, as it's only short and you know it will be something familiar for them to watch. We don't often think how overwhelming a cinema trip can be for a small child, and if you want to keep taking them then it helps if they love it the first time!