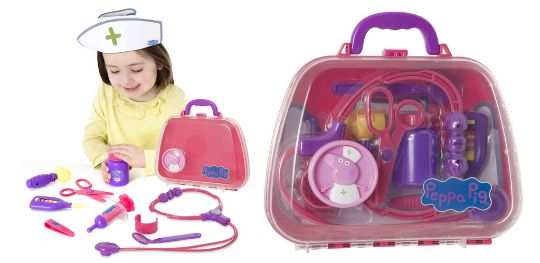 If you have a Peppa Pig fan at home then this Peppa Pig Medical Case is definitely worth keeping by for Christmas! My little one was given this as a present for her birthday and still plays with it most days, it definitely keeps her entertained. At Home Bargains right now they have this set for just £7.99 instead of the retail price of £12.99.
This Peppa Pig Medical Case is a great way to encourage imaginative role play, my daughter loves pretending that her dolls are unwell and she is the doctor caring for them. It also helped when she had to visit the doctor's herself, as she knew what all the equipment was used for, I think it helped in a situation that would have otherwise been odd for a little one.
This great Peppa Pig Medical Case includes Stethoscope, Syringe, Thermometer, Otoscope, Tweezers, Plaster, Medicine bottle, Scissors, Mirror and Nurse Peppa hat. All accessories pack away neatly into the carry case for easy transportation. It is a lovely fun, colourful design, perfect for any little Peppa Pig fan.
This is a delivery only item however you may be able to find it in store so worth a look. Delivery starts from just £0.50.