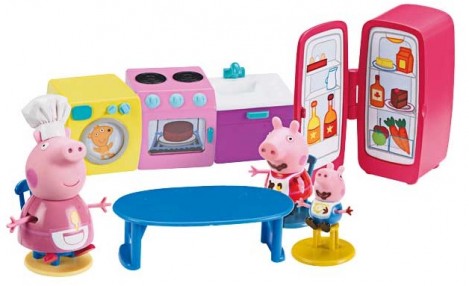 Is there anything they haven't made a set of for Peppa Pig? This one is a new one on me, but it looks super. Even better, Argos has it on half price offer. The Peppa Pig Kitchen Playset is £7.49, marked down from £14.99.
With this set, children get a Peppa and a George with bibs (although I'd have thought Peppa was too old to be wearing a bib!) and a Granny Pig complete with her chef's hat on and apron. How cute is that? I love that in Peppa Pig world, if you're old you simply have white hair! I wish it worked that way in the real world (she grumbles as she trudges off to plaster on the nourishing cream, moisturising solution and anti wrinkle eye cream).
The set also includes a fridge freezer, a cooker, a sink, a washing machine, table and chairs. It is recommended for ages three and over.
Overall the customer reviews on the Argos site are good. Most give it four stars or more. Except one poor customer whose fridge in the set had the sticker showing the food upside down! I expect that sort of mistake is easily grounds for a free exchange, but I can understand the disappointment. It is hard to do that when your child has opened the set and wants to start playing with it! I would honestly have expected better quality from the Peppa Pig franchise, so perhaps that was a very rare one-off.
Thanks to Kaz2314 at HUKD!