Peppa Pig Jumping In Muddy Puddles Peppa For £12.00 @ Tesco Direct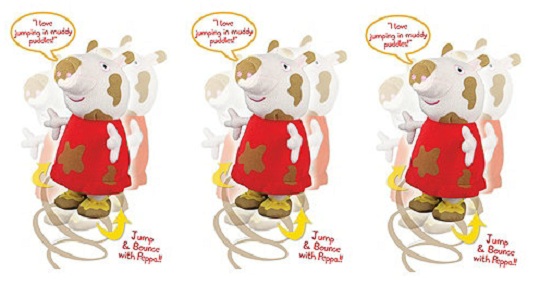 The Jumping in Muddy Puddles Peppa Pig is on sale for £12.00 from Tesco Direct. Your children will be delighted with this much loved and adored Peppa Pig that jumps and bounces in mud puddles. Peppa Pig was £19.99 so you save £7.99 when you buy her from Tesco Direct this Christmas.
Peppa Pig loves jumping in muddy puddles just like your children probably do. Your children will have lots of fun with this jumping and bouncing Peppa without having to actually get muddy. As well as bouncing and jumping this cute Peppa Pig also makes sounds and speaks phrases, so much fun. This toy will encourage your little one to engage in hours of imaginative play with one of their favourite animated characters.
Please note that this Peppa requires three AA batteries in order to bounce and talk to you so don't forget to get those too, otherwise you'll have very disappointed children on Christmas morning! Peppa Pig is suitable for children over the age of three.