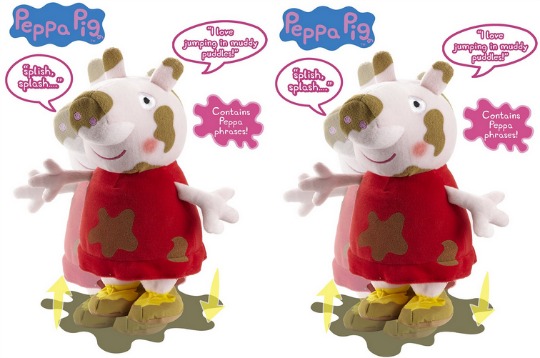 Woo hoo a Peppa Pig deal! Here at PP HQ, we just love that mucky little piglet. Nip over to Amazon and you can get your own Peppa Pig Jumping In Muddy Puddles for only £12.49. This sells for £20 at The Entertainer, £19.99 at Toys R Us. You can buy one at £14.79 from Argos* just now but you don't get the FREE delivery that Amazon offer with this cute toy.
We have all seen numerous Peppa Pig toys on the market, even on here, but this one is different. This one jumps up and down, whilst she says her favourite phrases from the show. She even has her famous yellow wellies on.
Every Peppa fan worth their salt would LOVE one of these. Gosh, I am tempted to buy one myself! The one thing I will say is don't put her in real muddy puddles as she is surface wash only. Why cant they invent machine washable interactive toys?
Mucky Peppa is suitable for children aged three and above. This is the age your child will become obsessed with her, it's happened to all of mine and it WILL happen to yours.
Anyway, enough of my babbling, click the link above and check it out for yourself. Did I mention FREE delivery? Get on over,you know you want to!