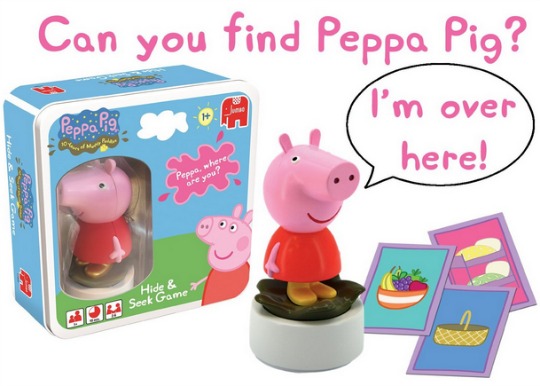 I WANT THIS! The Peppa Pig Interactive Hide and Seek Game is just £7.08 from Amazon. Compare that to £15 at Boots.com, £14.99 at B&M, and the next cheapest price we could find at £9.74 from Argos. This is a bargain, you know, I know it, what are you waiting for? This is a must have for any little Peppa fan out there!
Kids go wild for Peppa Pig so imagine the excitement of them playing this Hide & Seek game. It has four different game plays which mean that with the simplest one, it is suitable for children aged twelve months old and above.
In this game you get a talking Peppa Pig and twenty five picture cards. The four different games that can be played are: Peekaboo, Hide and Seek, a more advanced Hide and Seek, as well as Treasure Hunt. Each game suits different age groups which is a bonus, as the game will appeal to your child for longer.
As the Peppa Pig Interactive Hide and Seek game is under the FREE delivery threshold, why not add something like this Wibbly Pig Hand Puppet that we blogged about earlier.