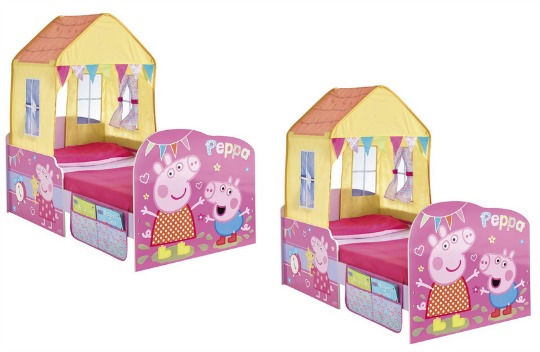 This bed is for the die hard Peppa Pig fans. I LOVE this bed and I bet your child will too. This bed would cost you £199 elsewhere but get it for the best price it has ever been. Head over to Amazon and this bed will only cost you £115.67 including FREE delivery.
I wish I had bed like the Peppa Pig HelloHome one. It's something that not many will have and that's pretty cool. Unfortunately, this is aimed at girls which annoys the heck out of me. Boys LOVE Peppa too!
It's a toddler bed so it'll certainly help the transition from cot to bed with it's novelty appeal. It has a Peppa Pig House Canopy which is a bit of good fun and is removable. There's fabric pockets on the side for storing books or small toys.
It's made from MDF and does require self assembly. It has a five star rating which is promising. This bed is the frame only with the extras mentioned and is suitable from eighteen months to five years old.
This bed is for the die hard Peppa Pig fans. I LOVE it and