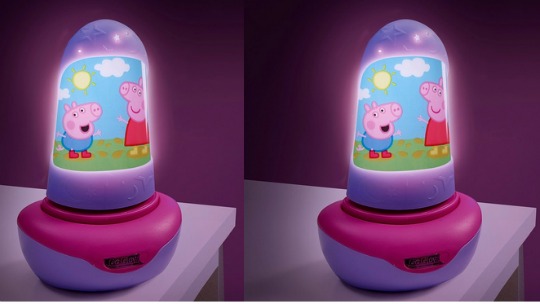 Calling all Peppa fans! Check out this Peppa Pig Go Glow Night Light & Torch over on the Smyths site. Get it for only £11.99, it is usually £14.99, but Smyths currently have 20% off Peppa Pig just now. In my opinion, it's worth the £14.99, so to get it for just under £12 is fab.
I am a massive fan of night lights, as are my kids. A gentle glow in a bedroom is so calming and can help reassure children in their beds at night. This Peppa Pig one is no different, apart from the fact that it is also a torch.
You will be pleased to hear that it comes with rechargeable batteries, because the amount of disposibles that night lights go through is crazy. The night light is switched on with the simple method of pressing the button. To activate the torch, simply lift it off of the base, this is great for children venturing to the toilet at night, so that they don't have to wake up the whole house by switching on hall lights for example.
It's pink and purple in colour and features a scene from Peppa Pig with her and George on. This illuminates when the night light is on.
The Peppa Pig Go Glow Night Light & Torch is out of stock for home delivery but is available for click and collect in ALL of the stores I tried. Which means you can pick it up from your local Smyths for FREE.
Thanks to agalee @ HUKD