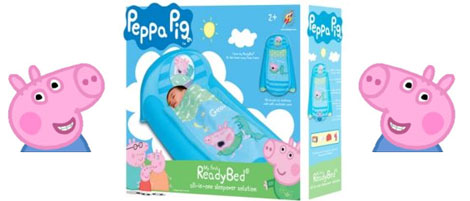 Ready beds are a rather genius invention but can be a bit costly. Argos have reduced this Peppa Pig George Ready Bed by one third, bringing the price down from £32.99 to £21.99.
If there is a boy toddler in your family then some sort of quick sleeping solution is going to be necessary at some point or another.
If you're a grandparent with limited space then you'll want a bed that can appear from nowhere as if by magic, and disappear again when your grandson has gone back home again.
If your son has little friends over to stay, then they're going to need somewhere to sleep and it isn't always practical, OR possible, to have a complete permanent bed on stand-by all of the time.
Sleeping head-to-foot is never fun either, especially if you have a friend who fidgets!
So all hail the ready bed! It blows up and it is completely ready when you need it and packs away into a tiny size when you don't.
There is an intergral head board (no pillow though, so you'll need one of those), the cover is machine washable and the sides are raised to prevent little ones from rolling over the edge.
The Peppa Pig George Ready Bed also comes with a carry case and a foot pump to blow it up with.
Happy toddler sleepovers!