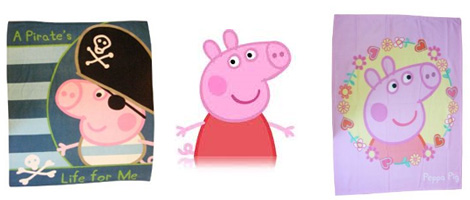 Amazon have a couple of lovely deals on Peppa Pig and George fleece blankets at the moment.
It was 1C in my part of the country at half past four this morning, even the dog thought twice before going outside it was that chilly!
So now is definitely the time to have extra blankets at the ready for those chilly nights and frosty early mornings.
If you have a little Peppa Pig or George fan in your house then these are going to be ideal.
For girls, the Peppa Pig fleece blanket is currently up for grabs for £5.94 instead of £9.99.
For the boys, the George 'Pirate' Pig fleece blanket is £6.07 instead of £9.99.
We have a daft number of fleece blankets in my house - they are just TOO useful!  There are a couple kept in the car to wrap up small people (or big people) when it's cold before the heaters warm the car up.
There are fleece blankets on the beds and a few spare in the airing cupboard for grabbing as and when; the cats and dog love sleeping on them too - although they don't mind whether they are Peppa Pig or George ones though *grin*
Both blankets measure 120cm x 150cm, are washable up to 40C and can be tumble dried if necessary; they dry in less than 20 minutes, though, if you can hang them over a radiator or on the washing line.
There's no delivery costs to pay on these either - OINK OINK!