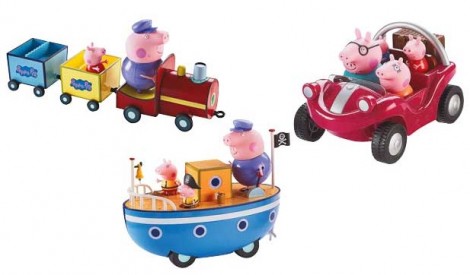 We're just past the Peppa Pig phase, which is a shame as this is a lovely bargain. The set includes Grandpa's train, the beach buggy, boat and figures. Argos has reduced it from £49.99 to £14.99!
At the time I looked, this particular item wasn't available for home delivery, although you could reserve it for when stock comes back in. Alternatively collect it from your nearest store if you can. I used the store finder and found that all the Argos shops near me still have this in stock. I'm sure it won't last too long though.
We already have the Peppa Pig train. It is fairly sizeable actually, and also very robust. If the other toys are built to the same level of quality, then this is a very good value set indeed. It is a shame it wasn't around when my son was into all this - I don't remember seeing the boat toy before, and I definitely don't remember there ever being a beach buggy in Peppa Pig! But I know he'd have loved them.
Thanks to Kaz2314 at HUKD!