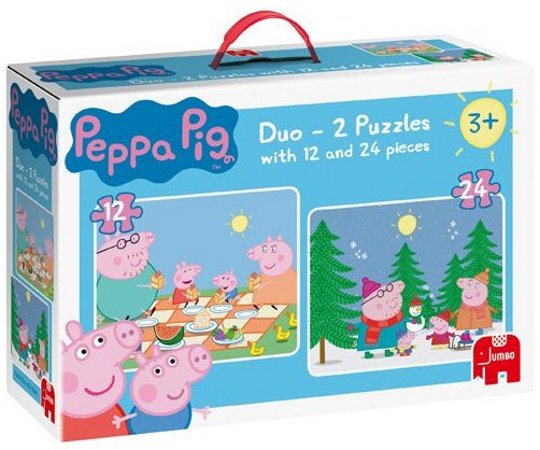 This Peppa Pig Duo Jigsaw Puzzle is a lovely looking gift for a Peppa Pig fan. The box contains two puzzles, one with twelve pieces and another with twenty-four.  It's currently on offer at £3.99 instead of £6.99.
It's pretty self-explanatory really – two puzzles, one with twelve pieces and one with twenty four, suitable from ages three and up.  The puzzles both measure 23cm by 19cm, so around an A4 page in size, and come in a box that acts as a carry case too.
The winter theme of the 24-piece puzzle will go well with the season, and the 12-piece summer picnic set will give you something to look forward to.
The reviews are really mixed on this one – some say it looks cheap, some say the box is too big for the quantity of puzzles (??) and some say it's fantastic and the kids love it. It's a cheapy, and makes a good stocking filler, but don't expect  miracles, I say.
Thanks to shadow1 at HUKD