Peppa Pig Chair £11.24 @ Sainsburys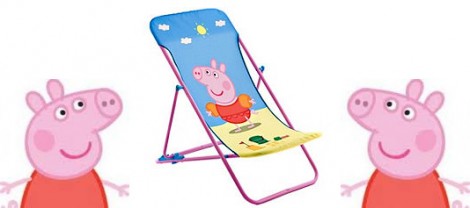 Oooh I do love most things Peppa Pig and Sainsbury's are selling this Peppa Pig chair with a 25% discount; £11.24 instead of £3.75.
This is a cute little chair that's guaranteed to get a lot of use this summer, that's assuming the sunshine and warm temperatures decide to put in another, and prolonged, appearance again this year (the weather in my little bit of the country is ruuuubbish again today!).
In the traditional deck chair style, this Peppa Pig chair features a warm and sunny picture of Peppa enjoying herself at the beach .
It has a tubular steel, powder coated frame which, according to the official information, makes it sturdy.
It's suitable for young Peppa fans aged between three and six years old, or a maximum weight of 50kgs...just in case you're tempted to sit on it too.
There is also official advice that comes with this Peppa Pig chair and that's to periodically check it for loose parts.  I'm not sure WHICH parts might loosen off over time, it's not as if it has that many of them; I'm just passing on the message.
The 25% discount price on this Peppa Pig chair is valid until 7 June.
OINK!