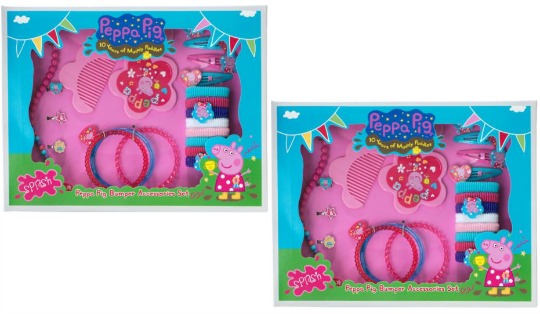 As an adult I can never find a hair bobble or clasp when I need one, I would imagine I was the same as a child. If you are constantly hunting for hair accessories, frantically, at ten to nine on a Monday morning then I suggest you get your hands on a jumbo set. Something like this Peppa Pig Bumper Hair Accessories kit from Argos. It is reduced to just £2.99 from £8.49 then £3.99. It's handy and looks to be well worth it's sub three quid price tag.
So what do you get in this £2.99 Peppa Pig Bumper Hair Accessories Set? A comb, mirror, hair clasps, oodles of Hair ties (bobbles), necklace, bangles and rings.
Each item is Peppa Pig themed and this particular set is to mark the Peppa Pig Golden Boots Ten Year Anniversary. It's suitable for little nippers aged three and above although you may wish to use the hair bobbles on a younger child.
You can Reserve and Collect the Peppa Pig Bumper Hair Accessories for FREE from your local Argos or pay £3.95 for home delivery.