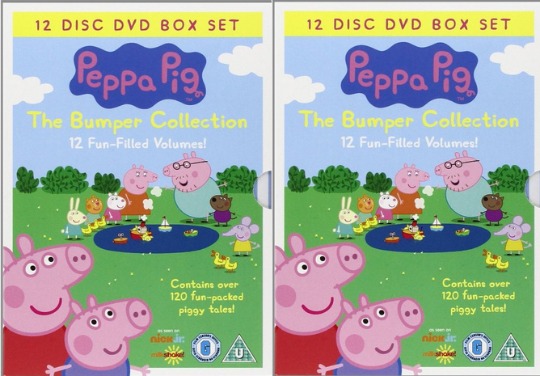 This is quite possibly the best £21.60 you will ever spend in your entire life! With this your kids will transform into little angels that sit quietly, brainwashed by that mischievous Peppa and her piggy family. We can't guarantee that of course but it's a strong possibility. Nip over to Amazon and you can get the Peppa Pig Bumper 12 DVD (Vol 1-12) Box Set for just £21.60 delivered. That works out at just £1.80 a DVD. I am impressed.
Just so you know how good this Peppa Pig box set is, it has 96 customer reviews and has scored a massive five stars. It lasts a whopping 10 hours 47 minutes. Wow! That's a LOT of Peppa Pig viewing for your money.
The titles included in this set are:  Muddy Puddles, Flying a Kite, New Shoes, Piggy In The Middle, My Birthday Party, Bubbles, The Balloon Ride, Cold Winter Day, Stars, Peppa's Christmas, Princess Peppa, The Fire Engine.
Your child may have seen these on the television already, but let me tell you if my kids are anything to go by, they will be happy enough to watch episodes, over and over again.  ENJOY!