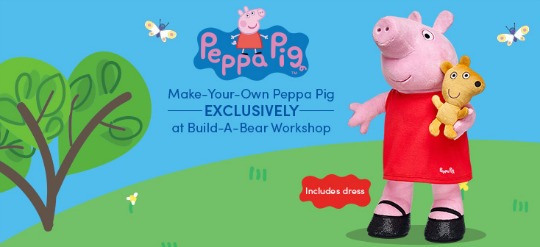 It looks like Build-A-Bear are bringing out some smashing new things for this Christmas, as following on from yesterday's Frozen Fever bears today they have started selling Peppa Pig!
New from today both online and in stores Peppa Pig has never been at Build-A-Bear before, and we expect her to be very popular indeed.
Peppa costs £24, and that includes her red dress. You can add extra's like her Teddy Bear for £4.50, or her black sparkly shoes for £5.50. If you want to change her outfit she has her very own Fairy Costume too for an extra £10. There are also some Peppa themed pyjamas for your regular bear to wear.
If you know someone who is a Peppa fan, and let's face it, most of us do, then a Build-A-Bear Peppa Pig would be a very lovely gift.