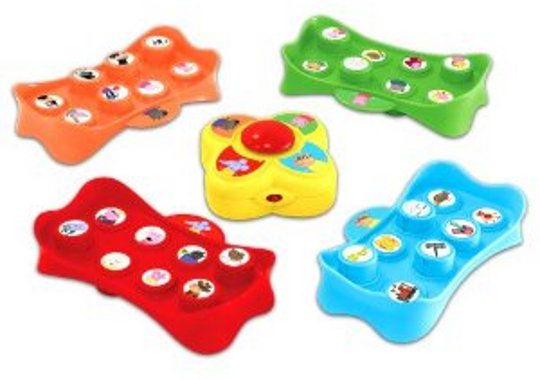 The Inspiration Works Peppa Pig Bingo is on sale at Amazon for 61% off, reduced from £14.99 to £5.79.
There's actually a really good explanation of the Peppa Pig Bingo from the only review on Amazon.
Apparently, "this is a sound-recognition bingo game for 2-4 players. Each player chooses one of the 4 plastic game boards (Emily, Pedro, Peppa, Danny) There are 2 variations - "object sounds" and "occupations sounds". Players decide which variation they want to play and turn their game boards to the correct side (one side has only object pictures, the other has only occupations pictures)."
According to Kip, the reviewer, "You select the variation on the central unit using a slider button, and each player presses his character button on the central unit. Then the game starts. Each player takes turns to press the buzzer on the central unit. The unit will play a sound. If a player has the related button on his game board, he will press the corresponding button down.Once the game is over (one of the players presses down his last button), the unit ie Peppa will announce the winner."
Kip says its an enjoyable game, with the only two downsides being you can't let your child win, and you have to stick the stickers on yourself, the right sticker in the right place.