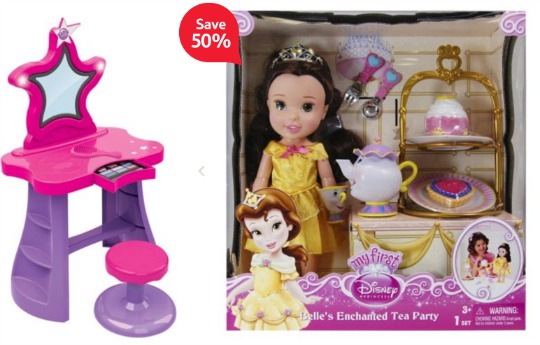 The Tesco Direct Up To 50% Off Toy Sale, in a nutshell, the variety is poor. We were all fired up about this one as well, all is not lost, as there is a few good buys. This is currently being held instore too, and Tesco told me that it's the same lines reduced instore as online. If anyone bags a good bargain instore, then let us know.  There might not be a huge selection, but it's still worth a look.
I found four things, that I regard as at good prices. The Disney Princess Belle's Enchanted Tea Party Set* is exclusive to Tesco and has been reduced from £40, down to £20. You get a Princess Belle doll, Mrs Potts, Chip, a cake stand with cakes and cutlery. I do think this is worth £20, not £40 though.
The Razzle Dazzle Light Up Beauty Centre*, would be nice in a little girl's bedroom. It's a plastic pink and purple vanity table and is now only £17.50. It comes with a matching stool and a drawer full of make-up. The cosmetics are real so be aware of that!
For those little die hard Peppa fans, there's the Peppa Pig Theme Park Playset*, reduced from £40, to £20. My boys have had EVERY Peppa playset going, and let me tell you £20 is worth it. They played for hours with their Peppa toys.
Finally, the CAT Construction Train Set*, looks to be a lot of fun for £20. Is it worth it's original £40 price tag? Not if you ask me, but it looks good for £20.
You can click and collect ANY of the toys in the sale for FREE, from your local Tesco store, or pay £3 for delivery.