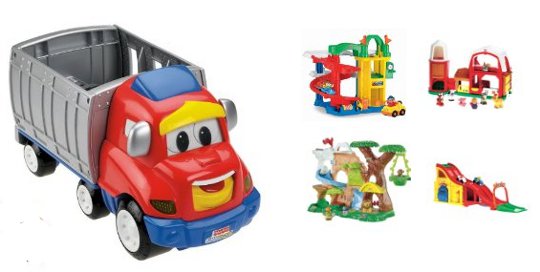 Amazon has up to 40% off selected Little People toy sets – which sounds great, but there's actually only one at 40%, the rest are nearer the 25 – 30% mark.
Although we aren't big plastic toy people, I'm regularly tempted by some of the goodies from Little People. They really could create a whole world, if you had the space for laying it all out nicely!
The offer from Amazon features Wheelies Zig the Big Rig Playset for £22.20 instead of £36.99. Zig is a built in Little People character with an animated face and over 50 spoken words and phrases, and his bumper, roof, side gate and wheels come to life.
At 29% is the Racin' Ramps Garage for £24.97 which has a 3-storey ramp, an elevator with a mechanical bell, a petrol pump and moving stop sign, two figures, a passenger car and a tow truck.  The elevator lights flash, there's a zooming noise when cars race up and down, a gas pump that glugs, and an air pump that hisses – and fortunately, a volume control and on and off switch!
The Little People Animal Sounds Zoo which we reviewed last year is £28.79 instead of £39.99 and the Rev and Sounds Race Track is reduced from £27.99 to £21.00.
And finally, with 10% off, there's the Animal Sounds Farm for £24.29 instead of £26.99.