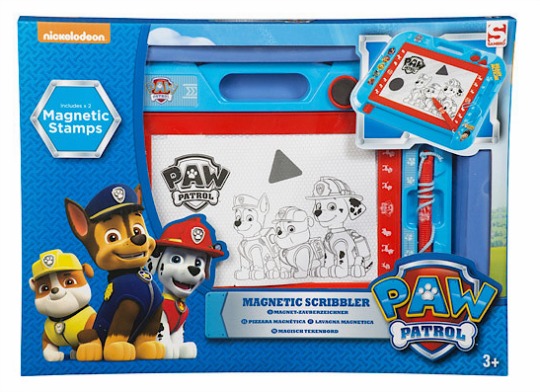 Paw Patrol is super popular at the moment, and some of the big toys are expected to be amongst the best sellers this Christmas. If you are looking to get something to please fans of the show then this Paw Patrol Magnetic Scribbler is half price at The Entertainer, now down to £5, and that's a third cheaper than the nearest price I can find anywhere else.
This Paw Patrol Scribbler is the medium size, so don't get it confused with those mini ones that are being sold for about £4 like I did at first - this one is a much more substantial size and comes with stampers as well, plus the magnetic 'pen' is attached to the board with a string so that there is no chance of it getting lost.
We already have two magnetic scribblers in our house, one for each of my kids, as it's such a great mess free way for them to draw, doodle, practice their writing, or use the stamps to make patterns. Once they have finished scribbling they just use the magic eraser to swipe it clean again.
It does say that it is for ages 3 and over, and I would thing that is because of the magnetic stamps more than anything. I do let my toddler use ours but I take the stamps away if he is using it on his own, and he has so much fun with it.
For just £5 with free click and collect you can't really go wrong can you?