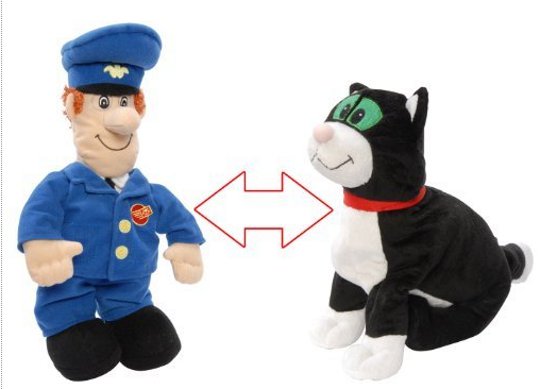 The Pat to Jess Reversible Plush Toy at The Hut has a very yummy 58% off at the minute, reducing it from £19.99 to £8.49.  There is also free delivery on all UK orders. Normally £14.99 at Amazon, it's currently £10.60 there right now too.
Okay, this is a weird one, really. In a Harry Potter-esque animagus-styled moved, you can turn Pat into his cat Jess, and back again. Professor McGonagall would be proud. (She can turn into a cat, in case you're not a Harry Potter reader or watcher.)
The Pat to Jess Reversible Plush Toy gives you two Greendale friends at the unfastening of a Velcro strip.
This item is in stock and will be dispatched in 24 hours. It shouldn't take more than 3 – 5 days to receive your plush toy.
There aren't any reviews on this so I can't really say if it's any good, but then a little Postman Pat fan isn't going to be too fussed, I'd imagine – as long as it's fun to play with!
Thanks to goonertillidie at HUKD