PalPlay Lilliput Dream House £39.99 @ Home Bargains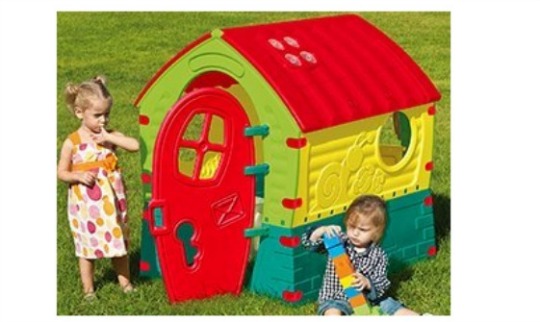 This super cheap Play House has been featured by us before, but previously it was not available for home delivery, so those who couldn't collect from a Home Bargains store were missing out. Now it's back in stock, and you can now opt for home delivery as well as click and collect.
The PalPlay Lilliput Dream House is the cheapest play house around at £39.99, and it's a great budget option. I'm calling it a cheap option, but actually it's just that Home Bargains are charging way less than anyone else. If you buy it from eBay it's £70, or from Very and Woolworths it will set you back twice the price of Home Bargains at a whopping £80!
Although Home Bargains don't have reviews in their website, I've been looking at the ones on other sites that sell it, and they are really positive. It's a sturdy plastic playhouse with a fairytale look, is fun bright colours, opening door and windows, can be used indoors or out, and is nice and easy to clean.
The click and collect from stores is free, and home delivery charges are calculated on an individual basis at the checkout.