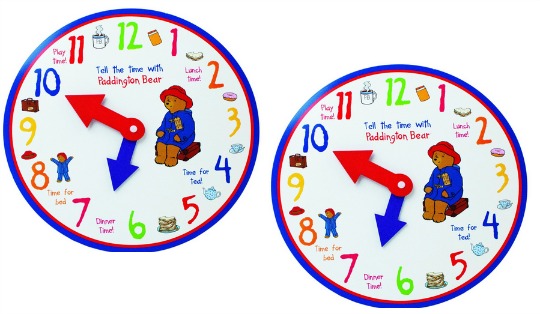 Learning how to tell the time is one of the most important life skills a child can learn. My boys found it a touch tricky so we used a purpose built learning clock to aid the. Sure, the school teach them but it doesn't hurt to encourage it at home. Amazon have the Paddington Bear Learn to Tell the Time Wooden Clock for just £4.76. That's a great price as we paid £8 something for the one we bought.
The Paddington Bear Learn to Tell the Time Wooden Clock looks like a fun way for the kids to pick up that all important skill. It's definitely one of the cheapest I have came across, especially out of the real wooden ones.
What I do like is the little illustrations that could help a small child figure out in their head, what each time is. The only flaw in this it doesn't mention time to wake up or breakfast time. Move the hands to teach your child the different elements to telling the time.
You can get this lovely wooden clock delivered for FREE if you spend £10 or above and quite honestly if you have friends with children aged three to six, you may find that they would like one for their kids too.