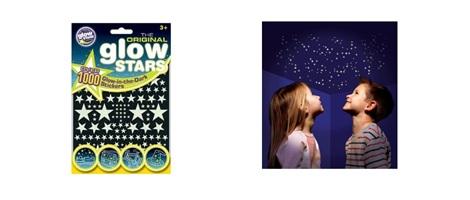 I love these. Love, love, love them. I haven't grown out of wanting glow-in-the-dark stickers on my walls and ceiling and probably never will. Amazon are selling the Original Glowstars for £2.98 for a pack of 1000, an utter bargain and brilliant stocking filler.
The Original Glowstars pack includes self-adhesive paper with glow-in-the-dark stars, moons, rockets and spaceships. You can create the most awesome night skies on the ceiling of your child's room. Or, in my case, my room. My husband isn't all that excited by the idea but said I could do it if I had it astronomically perfect.
With that in mind, it's a good thing that the pack includes a zodiac chart to help you create perfect zodiac alignments. The stickers can be used on walls, ceilings, bikes, bags, or anything else you feel like sticking them too. And they are guaranteed to put you in a bit of a zen state when you lie back with the lights off and imagine you're floating in the stars.
Thanks to G0Ose at HUKD!