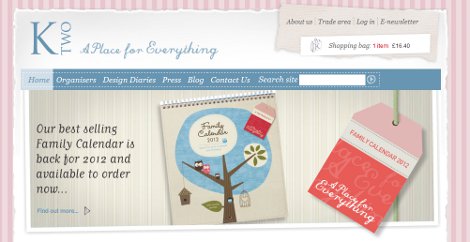 K Two have offered PlayPennies readers 15% off organisers, planners and files for the next month.
Organise your Christmas and your life with K Two
Discount: 15%
Valid on: Everything, including sale items
Valid till: 17 October 2011
Discount Code: PENNY15
There's something fulfilling (and incredibly rare) about being organised. Especially since I had a child, I seem to always forget birthday, rarely send greeting cards, and seldom have a box of biscuits in the cupboard for unexpected guests. I guess that's why the concept of K Two really appeals to me.
I can honestly not decide what I think their best product is, but there are many worth highlighting, and we've done quite a few K Two  product reviews here on PlayPennies before.
The first fantastic product I spotted on the site is the Decoration Storage Bag, a simply brilliant solution to those Christmas decorations that land up in a box every year, inevitably causing some breakage by  the next year. It's one of the sale items, normally £9.99, now £3.99 minus 15%, it's just £3.39.
Another favourite is the Birthday Card Book, which allows you to record birthdays and anniversaries and has storage for cards you might want to buy or make in advance. The great thing about this book is that it doesn't have a year in it, so you'll be able to use it for many years ahead.
While you can already personalise and buy your 2012 calendars and diaries, my absolute favourite item is Travel Clippings File. While I always return from my travels with a bag full of ticket stubs, entry tickets, brochures and so on, I still lose many, or find them crumpled at the bottom somewhere, in no condition to be used anymore. I love the idea of this book for notes and safekeeping for my most precious travel mementoes.