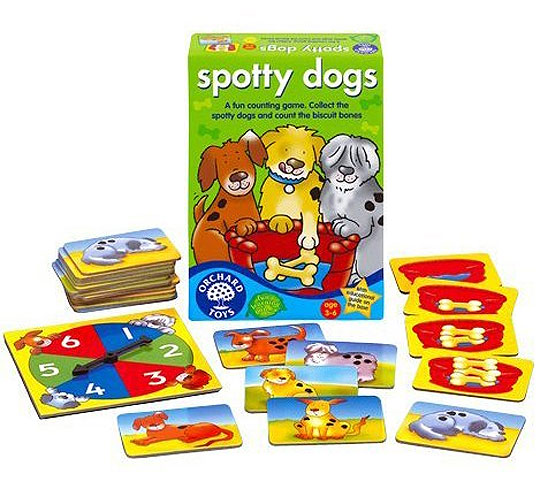 Amazon are selling this Orchard Toys Spotty Dogs game for £4.28 instead of £7.50 - at least they are at the time of writing, but you know what they're like!
SO, players have to take it in turns to spin the spinner, which will stop on a number. They then chose a card from the table that shows a dog with the same number of spots as the number on the spinner.
Turning the card over reveals how many biscuits the dog has hidden in his basket - the winner is the player whose dogs (on their cards) have collected the most number of bones.
Nice and easy to play, this Spotty Dogs game will help kids with develop their counting and number recognition skills. It also teaches patience as sometimes there are no dogs left with the right number of spots, so players have to wait for their next turn before they can collect any more bones!
This Spotty Dogs game has stonking reviews, here are just a couple of them:
I am a reception teacher (ages 4-5) and the children in my class LOVE this game! The element of surprise when they turn the cards over to reveal the bones is brilliant! I shall be buying lots more orchard toys for my class!

I bought this game for my grandchildren aged three years. It aids their counting skills and is bright enough to attract their attention and keep them amused. When the dog selected had no bones in his basket this upset one of my grandchildren until I explained the bones were so tasty the dog must have eaten them all. A good educational fun game. I have several Orchard games and puzzles and they are brilliant!
All of the usual Amazon delivery options are available to you - free or paid for, depending on how quickly you want to play your Spotty Dogs game!
Thanks to purple22 at HUKD