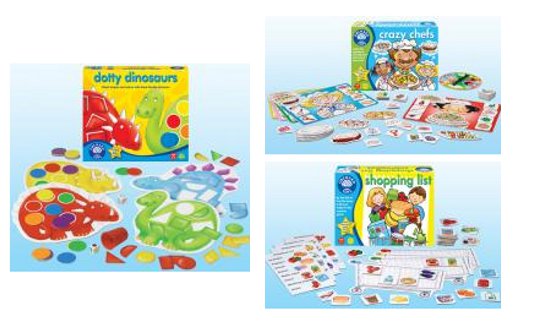 There's a price reduction at VUP Baby on three Orchard Toys sets.
The three games are reduced:
Shopping List (£4.99 instead of £7.25) - Be the first to fill your trolley with all of the items on your shopping list, in our best-selling memory game. For 2-4 players.
Crazy Chefs (£4.99 instead of £7.25) - Join the chefs in the crazy kitchen and collect everything they need to make a meal. Then grab your plate and wait for your dish to cook! Will you be the first to serve up a tasty treat?
Dotty Dinosaurs(£6.25  instead of £9.25) - Can you help the dotty dinosaurs to find their missing spots? Throw the dice to match shapes or colours and be the first to cover your dinosaur board,
in this fun game for young players. This game has two games in one.
Orders over £50 come with free delivery (got any birthdays coming up?) otherwise delivery costs will be calculated at checkout.  You can also add gift wrapping and send it direct for £3.50.