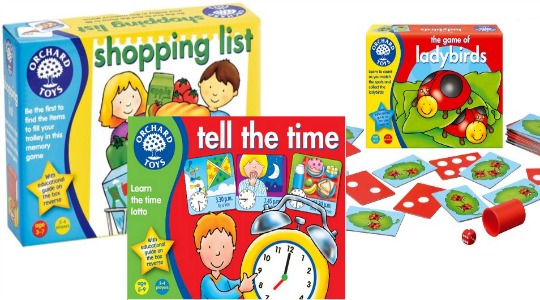 I love Orchard Toys games as they are fun and educational for children, which is a hard mix to get right. Tesco have some of the most popular of these reduced from between £6-9 down to just £4.50 each, and it looks like Amazon have matched them as well, giving you a choice of retailers to buy from.
The ones on offer at Tesco include the best selling Shopping List game. It's supposed to improve observational and memory skills, but we used it to help improve the vocabulary of our reluctant speaker.
There are games that help with early maths skills like the Ladybird Game, a Tell The Time Game, and the Crazy Chefs one helps children learn about ingredients and cooking.
Other games and puzzles are like Pigs In Pants are definitely more about the fun than learning, but even this type have the Early Learning Goals in mind with the skills children need to use and develop to play.
All the games clearly state on the box and descriptions which age group they are aimed at and what educational skills they are focused on, so that you can ensure you are buying something appropriate.
Tesco Direct offer Free Click & Collect, Amazon offer Free Delivery over £10.