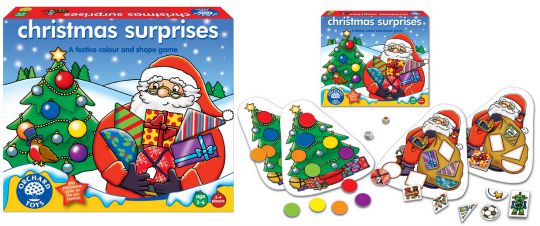 We are huge Orchard Toys fans in our household. The games and puzzles are so well made and we find them really well thought out and engaging for our three year old. They manage to hold her short attention span, help with various skills and learning areas and also us adults enjoy them too! They are great games for the whole family. At Amazon they currently have 60% off the retail price on the Orchard Toys Christmas Surprises Game, it is just £3.82 from £9.50. This is an add-on item which means it will only be dispatched with any qualifying order over £20.
This Christmas themed game is perfect for ages 3-6 years and is designed to encourage social skills, observational skills and is linked with the early years learning goals. There are two ways to play the game, the first aim of the game is to help Father Christmas decorate his tree and the second game is to collect as many presents as you can for Father Christmas's sack. You need to throw the dice and match the shapes or colours to the festive board in front of you.
The reviews seem pretty good on this item and it looks a fab price to keep by for Christmas. This would be a good idea for Christmas Eve boxes or even as a little treat under the tree from Father Christmas for the whole family to play on Christmas Day!
As you have to spend £20 or over to qualify for this item, delivery becomes free.