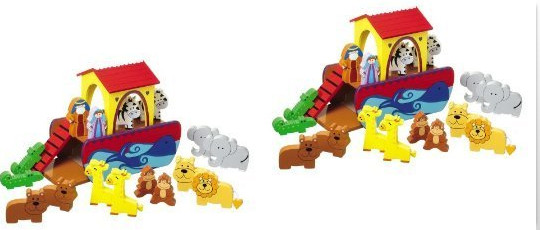 Our local children's centre has some amazing toys, and they've inspired many of our toy purchases over the last year or so, and this Noah's Ark from Orange Tree Toys* was one of them. Actually the children's centre's one was huge, and this is just a small version for £11.25.
The set is made up of 18 pieces, including Noah and Naamah (his wife), seven pairs of animals, the ship itself and a ramp to get onto the ship.
The seven pairs of animals are identical zebras, giraffes, elephants, bears, and crocodiles, then two monkeys with their arms in different positions and a male and female  lion. Noah and his wife are clearly different genders too. The hull of the ship opens for putting the animals in, and there's a small amount of space on deck.
Actually I find the size of the ship very frustrating. It could do with being a few millimetres wider so that when the ship is 'floating' you could put the ramp on it. At the moment, you just have to leave the ramp behind. Also, it's just big enough for all but two of the animals, so when it comes to storage, you can fill all the animals inside lying flat, bar two. It would have been ideal to be able to store the animals inside, but alas.
Another minor annoyance is that Noah and Naamah have faces printed on both sides of them. It would have been better to have a head of hair on one side and a face on the other.
Quality wise, however, they are really good. My daughter bangs Noah against the ark while he is 'building' it and so far no paint has chipped or wood chipped either. It's one of the cheaper Noah's Ark sets on the market and if you're not too worried about the details above, it's a pretty good buy, and my daughter loves the animals and loves pretending a flood is coming.