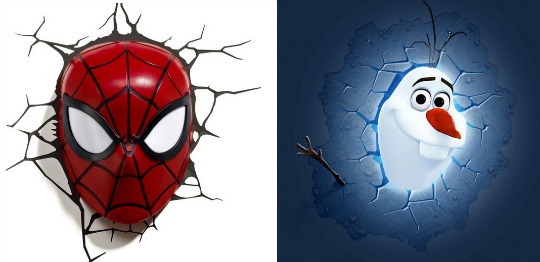 These 3D lights look so cool, and I have written about them a few times in the past when the price has come down low enough. Right now Zavvi have their big summer sale on and they have brought the prices down to just £22.99 on the Spiderman and Olaf 3D lights, with some of the other ones like Star Wars not that much more at £28.99. When you add the code SALE1 you get £1 off as well - not much, but it all helps! The code SALE5 gives £5 off, buy that's when you spend over £50.
These are battery powered LED lights, so that means that you can pop them on the wall with a picture hook wherever you want them to go, without being stuck with trailing wires or needing extra plug sockets. LED lights also don't get hot to the touch so are safer around children, although these are still not recommended for under 3's because of small parts.
The crackle effect is from a sticker that you place on the wall around the light so that it looks like they are bursting through the wall into the room! The best use of that was the marvel ones I think - Hulk's fist and Thor's hammer punching through looked really effective, and I'm kicking myself for not buying those when they were on offer.
Delivery is free on all orders from Zavvi so £22.99 is all you pay for these Spiderman and Olaf 3D lights.