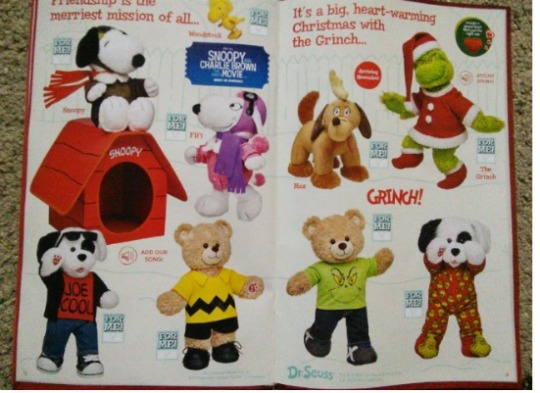 Build A Bear seem to be getting better and better at bringing out those Limited Edition Bears and Accessories of those characters we know and love. This year's Christmas selection is AMAZING. There is to be a Snoopy and Charlie Brown: The Peanuts the Movie Selection and The Grinch! There will also be a marvellous choice Reindeer: Comet, Prancer, Vixen to name a few and the latest addition Glisten, an Elsa-esque Deer.
Build A Bear will also be running a promotion on their Cub Cash Bonus Gift Card. Spend £25 or more and you can purchase a £10 Gift card for just £5 which is to be used on your future visits. They will also donate a 'Furry Friend' to Barnardo's for every Cub Card Bonus Gift Card Purchased. This runs from 15th November until the 25th November 2015. Up to a maximum of 7,500 bears will be donated.
Build A Bear will also be running the Merry Mission* in their stores, where you can make a bear for FREE. You don't get to keep the stuffed toy, but it is donated to children and families that Barnardo's work with in the UK.
Merry Mission will be held in stores from Friday, 13 November - Sunday, 15 November and is limited to the first 70 guests per store.

You can also make a donation by adding a Purple Satin Heart to any furry friend for a £1 donation to Barnardo's.

That's nice, so not only can you bag some cool Christmas presents and save yourself £££'s on those Cub Cash Bonus Gift Cards, but you will be helping a great children's charity too. Bravo Build A Bear... we are sold!